Only available in Naples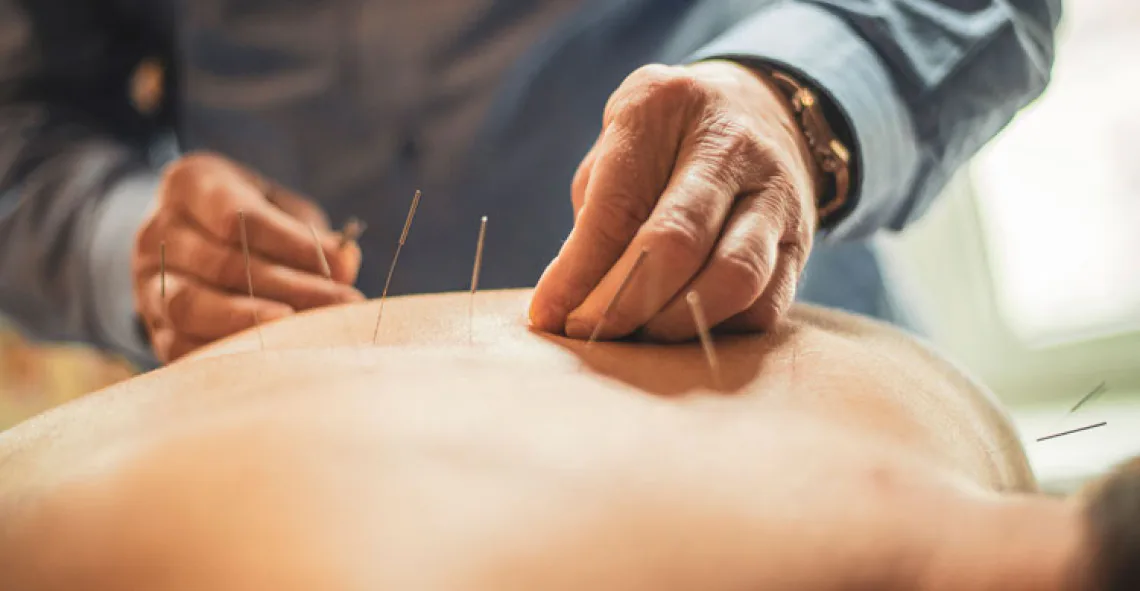 What is Acupuncture?
Acupuncture is a safe and effective way to help promote the flow of Chi and stimulate natural healing. It works by inserting thin needles into specific points in the body, stimulating nerve endings, and promoting the circulation of energy. According to traditional Chinese medicine, these needles help to restore balance to the body's energy system, allowing the body to heal itself naturally and promoting overall well-being.
Research has found that acupuncture can effectively treat various conditions, including headaches, anxiety, digestive disorders, and musculoskeletal issues. In addition, it has been shown to reduce pain and inflammation, boost immunity, improve energy levels, and reduce the effects of aging.
How Acupuncture Works
As mentioned, acupuncture is based on the belief that the body has an internal energy system, known as "Chi" or life force energy, which flows through 14 distinct pathways throughout the body. When these pathways become blocked or out of balance, it can lead to physical and mental health issues. Acupuncture seeks to restore balance to the chi pathways by stimulating specific points along the energy pathways. This stimulation helps to release endorphins, which are natural painkillers, and increase blood flow, resulting in improved health and well-being.
Does Acupuncture Hurt?
Acupuncture needles are considered to be very safe, and acupuncture needles are sterile, disposable, and as thin as human hair.
They are inserted into the skin at specific points and should not cause any pain or discomfort. However, some people may experience a slight prickling sensation when the needles are inserted, as well as a feeling of warmth or tingling in the area where the needles are placed. This is usually only temporary and is not considered to be painful. The needles may be left in place for a few minutes or up to an hour, depending on the desired outcomes of the treatment. Additionally, some practitioners may use heat, electricity, or massage in addition to the needles to further stimulate the Chi flow and improve the efficacy of the treatment. It is important to consult with your practitioner to ensure that you receive the most effective treatment for your individual needs.
Acupuncture for Low-Back Pain
The evidence for acupuncture for various types of chronic pain is quite strong. According to the National Institutes of Health, multiple reviews have found that acupuncture is an effective treatment for chronic low-back pain, as well as knee and hip osteoarthritis. A systematic review conducted by the American College of Physicians and the American Pain Society concluded that for chronic lower back pain, acupuncture is one of several treatment options that may provide a small to moderate amount of relief. The research also suggested that acupuncture may be considered an alternative to conventional treatments, such as medications or physical therapy.
Acupuncture for Headaches
Yes, acupuncture is an effective treatment for headaches, including migraines and tension headaches. In one study, researchers found that people who received acupuncture had nearly 50 percent fewer days with tension headaches compared to those receiving conventional care.
Acupuncture for Fibromyalgia
Research suggests that acupuncture can offer many benefits for people with fibromyalgia, including reducing pain levels, improving sleep, and stimulating the immune system. Additionally, research has shown that acupuncture can have real effects on the brain structures involved in pain processing. Electroacupuncture (EA) appears to be especially effective for fibromyalgia, as studies have suggested that it may cause changes in the levels of two neurotransmitters—serotonin and substance P— which are key to FM.
Acupuncture for Arthritis Pain
Acupuncture and Traditional Chinese Medicine (TCM) can be highly effective for the treatment of arthritis. Studies have found that TCM is effective in treating both rheumatoid arthritis (RA), an autoimmune disorder, and osteoarthritis, which is caused by wear and tear on the joints. A review of 43 clinical studies showed that TCM for RA helps reduce inflammation and improve immune system function. Additionally, a review of eight clinical trials concluded that acupuncture was an effective treatment for reducing pain due to osteoarthritis. Furthermore, acupuncture treatment combined with Chinese herb supplements and personalized diet coaching has been shown to be effective at alleviating symptoms due to different types of arthritis, and may even be able to reverse and prevent further damage to the joints
Acupuncture for Carpal Tunnel Syndrome
Studies have found that acupuncture is an effective treatment for carpal tunnel syndrome and is more effective than usual care, including anti-inflammatory medications. It has been shown to successfully alleviate pain, inflammation, and numbness, and restore motor dexterity. Electromyography (EMG) testing has confirmed these results, showing improvements across multiple parameters. Additionally, a study conducted in Taiwan compared the effectiveness of acupuncture and steroid pills for hand and arm pain associated with carpal tunnel syndrome. The researchers found that the group of patients who received eight acupuncture treatments over a one-month period reported more relief from their pain and that this relief lasted for a longer time than the relief reported by patients taking medication.